Mr. Go
14 July, 2013
By Jason Bechervaise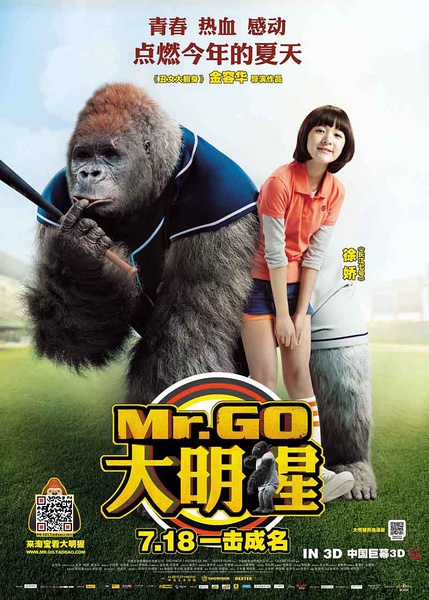 Though lacking a strong footing in a sensible script, Mr. Go has enough swing to it thanks to an endearing and captivating computer generated leading character known as Ling Ling - a gorilla with a gift for hitting home runs one after another - marking a milestone in Korean cinema through its jaw-dropping visuals that is bound to attract audiences of all ages when it goes on release in South Korea on the July 17. On the international stage meanwhile, it's also set to make its mark in other Asian territories, especially China when it goes on release there on at least 5,000 screens a day after its local release (July 18).
Budgeted at $22.5 million the film comes with a significant risk for a Korean film, but with Chinese investment from Huyai Brothers Company accounting for approximately a quarter of the film's budget, there is a tangible emphasis on the Chinese market. This can be seen through the casting of popular Chinese actress Xu Jiao (2011's Starry Starry Night), along with its dialogue, which is a combination of Korean and Mandarin that may prove to be essential to the film's success.
Director Kim Yong-hwa, however, is also careful not to shift all the focus on China as evident through the film's emphasis on baseball itself that includes cameos from current South Korean baseball stars (Ryu Hyun-jin & Choo Sin-soo) as well as the inclusion of real teams such as the Doosan Bears (a popular team based in Seoul). Crucially, Kim has managed to capture much of the excitement found in the game which is very popular in Korea and replicated it on screen to extraordinary effect.
Based on the classic comic 7th Baseball Club written by Heo Young-man between 1985-87, the film adaptation follows a Chinese 15-year old ringmaster called Wei Wei (Xu Jiao) and her 285kg (628-pound) bat-swinging gorilla (Ling Ling).
After Wei Wei's grandfather who is her only relative dies in the 2008 Great Sichuan Earthquake leaving vast amounts of debt, she has no choice but to accept a Korean sport agent's offer (played by Sung Dong-il) to bring Ling Ling to Korea to play baseball for the Doosan Bears so she can save the circus she runs in China and the orphans that inhabit it. Ling Ling otherwise known as Mr. Go becomes an instant hit with the fans, but the gorilla and Wei Wei soon encounter unexpected troubles.
While the film's noticeable flaws in its script are slightly less pronounced in the first half, as the film becomes increasingly schmaltzy through a number of unnecessary amateurish supporting roles, it's more challenging to overlook its faults, but Kim's melodramatic narrative traits as evident in his previous films including 200 Pounds Beauty (2006) and Take Off (2009) have made his features very successful at the box office. Both these films collectively amassed 15 million admissions (approx $88m) locally.
In terms of its visuals, it's impossible to not acknowledge what Kim and the VFX supervisor Jung Sung-jin have achieved here through Kim's production company's own VFX studio Dexter Digital. Ling Ling together with a second gorilla called Lei-Ting who later comes onto the baseball field to also compete have been crafted with a staggering amount of clarity together with copious amounts of emotion and character. When these gorillas, especially Ling Ling who is the first leading character ever to be solely created by VFX in Korean live-action cinema get onto the field, the spectacle is exhilarating, which is further strengthened by its strong adoption of stereoscopic 3D - the first Korean film to be shot in this format – without taking it too far.
Xu is adorable as the 15-year old girl even though she is rather bland at times and Sung Dong-il is more than adequate as the materialist but amusing sports agent, but it's Ling Ling who steals the show with his undeniable presence both in aptitude and charm. .
With its potentially wide demographic – from younger viewers to older generations – Mr. Go is set to exploit the summer box office window in its local market of Korea, while also holding strong prospects in other Asian territories beginning with China before being released in other parts of Asia including Indonesia, Hong Kong and India in August and September.
Production Company: Contents Eye & Dexter Studios
International Sales: Showbox/Mediaplex, inc, www.showbox.co.kr
Producers: Yoo Jin-woo
Screenplay: Kim Yong-hwa, Kim Hyun-chul, Kim Jong-hyun.
VFX Supervisor: Jung Sung-jin
Main cast: Xu Jiao, Sung Dong-il, Kim Kang-woo, Kim Hee-won Kim Jung-tae, Kim Eung-soo, Byun Hee-bong, Joe Odagiri
ScreenDaily