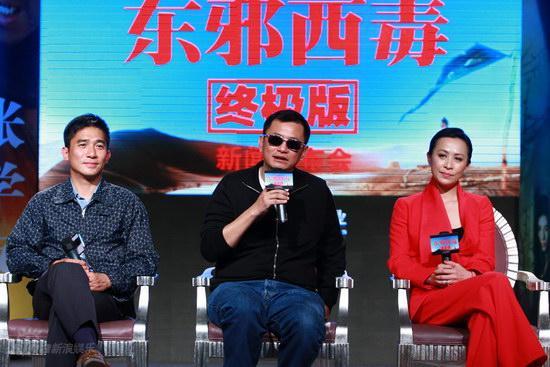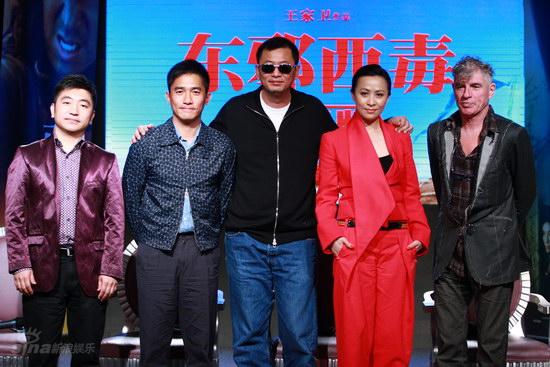 Ashes of Time Redux Beijing press conference gallery
'Ashes of Time Redux' Premieres

Kenny Bee and Sylvia Chang attend HKIFF exhibition organized by Tsui Hark and Nansun Chi titled 'Romantic Historical Novel'
Q&A: Noh Young-seok
"Daytime Drinking"
Korean Films to Return in April
10 domestic titles are slated for release next month
BC Magazine Film Reviews
Tokyo Sonata
Oxide Pang's Basic Love
The Equation of Love and Death
Love Connected
A Thousand Years of Good Prayers
Love triangle
Oxide Pang Chun offers a melodramatic teen love story in Basic Love

HAF lauds Charlie Yeung for financial acumen
'Christmas Rose' is first project to get fully financed at HAF
China takes on Hollywood in box office battle
Directors offer ways to defeat dominance of imports
 
Feng Xiaogang created a stir when he made some controversial remarks. [fuzzy and partial translation follows]
Speaking on a panel with John Woo and Wei Desheng (Cape No. 7), Feng said that although many mainland films are screened in Hong Kong, Hong Kong and Taiwan do not sufficiently understand mainland culture, "therefore I simply do not want to make films for overseas market. Mainland culture to Taiwan and Hong Kong is strange."
"In the mainland, my movie in one day makes 20,000,000 Yuan box office, but here (in Hong Kong) only takes in one month 2,000,000 Yuan. Is my film really not good?"
"I must tell the truth, Hong Kong audience look down upon us."
Feng Xiaogang is quite confident in his brand and thinks he does not need Zhang Ziyi to make Tangshan Earthquake  (his upcoming film). He said, To use her, I'd have to pay her $20M yuan, I will simply use a new person. I want that $20M yuan to be put into the filmmaking.
http://news.xinhuanet.com/ent/2009-03/26/content_11073453.htm
Andy Lau wedding on hold?
Falsely led to believe Carol Chu was pregnant?
Carol not pregnant, Andy plans to call off wedding

Faye Wong recently signed an 8-digit contract to film a shampoo ad
The ad is set to be broadcast on regional TV in April. The brand was previously promoted by Jackie Chan for $14M yuan. Faye's fee is estimated at betwee $15M - $20M yuan. This has sparked speculation of Faye's return to stage. Today marks the 20th anniversary of her debut.

Faye Wong makes return with S$4million advertisement
New CD? Role in Feng Xiaogang's Tangshan Earthquake?

Gigi Leung celebrates birthday and CD release with fans
Joey Yung has no love for Edison Chen; only resentments
There is no pity for Edison Chen; neither is there love. Hong Kong singer Joey Yung, who will be holding her concert in Singapore in April for the first time, tells local media in a phone interview that she has never had good impression of Edison and disdained any interactions with him.
"I do not want to have any relations to him. I've always never had any good impression of him or admiration for him. I have no feelings about his ordeal," she said.
On the other hand, she is supportive of her good friend Gillian Chung, who has had a sexual relationship with Edison and was twirled into a sex photos scandal last year. To relieve Gillian's stress and cheer her up, Joey was seen out shopping with the former; she said that was the only thing she can do for a friend in such crisis.
"Nobody can ever relieve her of the hurt and sorrow she suffered. But I hope it is a lesson learned and she can learn to love herself more. I hope everyone can give her a second chance," Joey said.
Though fully supportive of Gillian's comeback, Joey said she will not invite her as the concert performing guest. "I think she is more than a special guest; Gillian should always be the center of attraction," she said. However, Joey will not hesitate to invite Gillian to Singapore as guest of the concert if the latter is available.
Joey is now among the top female singers in Hong Kong music industry and has even been named the Queen of Pop; she is now hoping to extend her performing career further in acting. Since "The Return of the Condor Heroes", Joey has not received any new scripts. She hoped to be landed with a role that offers room for character development.
When reporters hypothesized for the male lead of Joey's next movie to be Edison, she was stunned and speechless for a moment. After seconds of pauses, she replied, "I'll let the company decide for me. I believe their decision is the best for me."
Her friendship with Hong Kong female singer Denise Ho was rumored to be more than just that. Joey said she was indeed vexed and afraid initially, but got used to the rumors as years passed. However, she wished those meaningless rumors would not affect their friendship.
"Denise is a very special girl with her own unique perspectives about things; she will also offer me opinions on my work. To get such a loyal and reliable friend in showbiz is rare. I will do everything to treasure this friendship," she said.
Joey, who denied to be homosexual, shyly said she has never been molested. "Perhaps people do not have any fantasies of me. If you don't give people the "Welcome" message, he will not come over. I am someone who is very self-protective."
Mid April, Joey will be holding a concert for the first time in Singapore and challenging tough dance steps; she is not just going to do somersaults but also stunts. Without a background in action and dance, Joey spent one month practicing for a 20 minute performance and ended up with injuries.
When asked if her company will increase her insurance coverage, Joey was bold and uninhibited. "I've never asked my company about this, but it's an honour to die on the stage!"

Gillian Chung appears in Shanghai for an online game, FIFA Online
Caged in by poverty - Cage Men
Hong Kong art gallery exhibits 'cage homes' to highlight wealth gap