Variety: Detective Dee and the Mystery of the Phantom Flame, 2
THR: Tsai Ming-liang turns to art films
Boxoffice success elusive for 1994 Golden Lion winner
FBA: Trademark dispute over "Seediq Bale"
Maggie Q (Sina-slide show)
THR: Maggie Q cast in 'Priest'
Maggie Q is joining Paul Bettany and Cam Gigandet in "Priest," a post-apocalyptic horror project that Scott Stewart is directing for Screen Gems.
The Warring States poster
Warring States directed by Jin Chen and starring Sun Honglei, Kim Hee-Sun and Francis Ng has finished shooting as is now in post-production. (ChinaDaily)
Jin Chen will be also begin shooting a sci-fi suspense film starring Bruce Leung, Tze Miu and Chen Shi in October in Shenzhen.
Bruce Leung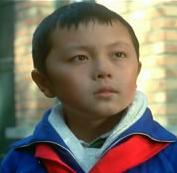 Tze Miu in My Father is a Hero
Hong Kong media is reporting that the reason for the failure of a Cecilia Cheung - Derek Yee reunion film agreement was due to a 'price hike' by Cecilia for her services. Last year, Cecilia has to pay large settlement costs as a fallout of from 'photo-gate' for loss of revenue by advertisers and brands. Elsewhere, Stephen Chow is still trying to get both Lucas and Cecilia to appear in King of Comedy 2 and has offered 10M yuan for the pair. (Xinhua)
Fan Bingbing visted Tibetan children being treated in Beijing for congenital heart diseases on her 29th birthday. (Xinhua-gallery)
CRI: Cheer Chen to Give Solo Concert in Beijing
SG: Cecilia Cheung's rumoured to have done two boob jobs
[I think the only real new news is the second one for reduction.]
SG: Chow Yun Fat to give away 99% of wealth after death