To mark the 100th anniversary of the International Women's Day and changes of role of woman in modern society, 10 Mainland films made by women filmmakers over the past three decades will be shown in the "Chinese Film Panorama 2010: A Feminine Perspective" from October 14 to November 7.
FBA: Mei Ah takes Grand Master rights
The Grand Master, which takes another look at Ip Man, the martial arts ace credited with teaching the wing chun style of kung fu to Bruce Lee, is tentatively set for release at 2011 Chinese New Year (Jan-Feb).
CRI: 'Aftershock' to Grab Oscar Entry
The blockbuster film, "Aftershock," which is the most successful film ever made in China, has been chosen to compete for the nomination at the 83rd Academy Awards next February.
Entertaining but throwaway whodunit set in Ancient China.
Jackie Chan, Li Bingbing and Winston Chao celebrate as the movie "The 1911 Revolution" started filming in Fuxin City of northeast China's Liaoning Province on Wednesday, September 29, 2010.
Jackie Chan, Li Bingbing, Winston Chao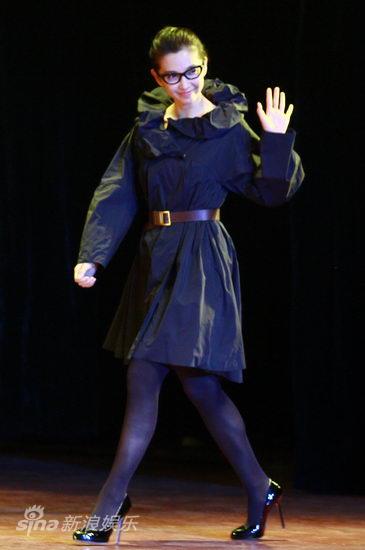 More on Stephen Chow's New Journey to the West. Chow has personally invited Maggie Cheung to appear in his film. In addition, Will and Jaden Smith may be guest stars. Taking advantage of the Monkey King's legendary 72 transformation, Chow will use this as a premise to cast many celebrities and guest stars. (Xinhua), 2 [I can see Maggie now as Princess Iron Fan!]
Josie Ho, Jude Law
Josie Ho was tight-lipped about working with Jude Law in Contagion but met at an event in Hong Kong. (Sina)
CRI: Cherrie Ying, Jordan Chan Publish Uniform Wedding Photos
Liu Ye in a fall/winter fashion shoot for GQ
Vivian Hsu
Vivian Hsu at a recent magazine promotion event (Sina-slide show)
Jet Li attending the unveiling of his wax (un)likeness at Hong Kong's Madame Tussauds
Elaine Ng
Elaine Ng was in Hong Kong for a skin care brand yesterday. She resides in Shanghai and is a former actress most well known as the mother of Jackie Chan's "Dragon Seed" daughter who is now 11 years old. Still unmarried, Ng says her daughter knows who her father is but they rarely discuss it. (Xinhua)
Fuzzy Photos Dept: Faye Wong recently celebrated husband Li Yapeng's birthday in Beijing. At one point, Faye coaxed friend Zhao Wei on stage to join her for a karaoke rendition of a Karen Mok song, 'He Doesn't Love Me'.
Faye Wong, Zhao Wei (Xinhua), 2
Carina Lau
Carina Lau recently posted a collection of photos from her 7-day 'Roman Holiday' on her micro-blog. (Xinhua-gallery)
George Lam, Sally Yeh
Despite regular rumors of divorce, Sally Yeh appeared at George Lam's recent Hong Kong concert. The concert was recorded and will be released later as a DVD. (Sina)
Patrick Tse showing off his 'guns'
"The Chinese Jack Palance"
74 year-old Patrick Tse was seen with girlfriend Coco (47 years her junior) at Shanghai Airport. (Sina)
Rosemary
Rosemary was officially charged with 3 misdemeanor counts for her auto accident involving the Reno arch: hit-and-run, illegal right turn and not having insurance. The trial date for these charges will be on Dec. 8. The court hearing date for the more serious felony drug possession arrest is on Oct. 19. (Sina)
Hong Kong model's Reno trial set for Dec. 8 for crash into landmark arch
Stephen Chow's mother
Young Stephen and family
Resigned to a bachelor son, declares Stephen Chow's mum (Sina), 2